PSPdisp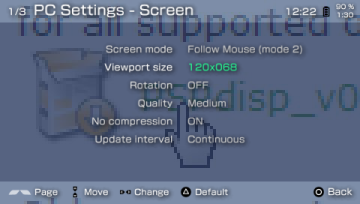 This program package enables the use of a Playstation Portable as an additional monitor in Windows. You can also remotely send keyboard and mouse commands to the PC. The newest version implements sound streaming, too.
PSPdisp is compromised of four components, on Windows a display driver, an usb driver and the interface application which captures the screen, compresses it and sends it over USB or WLAN to the PSP. On the PSP side there is an application that decompresses the frames and displays them.
This software is licensed under the BSD license. Download is available as an installer which performs all necessary steps. There is only one setup file for all supported operating systems. Full source code is included.
Latest Version : PSPdisp 0.6
Release Date:
2011/02/12
Notes for this version:
v0.6
New features:
- settings can be saved in "presets"
- multiple instances of PSPdisp can be started to connect more than one PSP in WLAN mode
- support for Wake-On-Lan
- WLAN LED can be switched off
Bug fixes:
- not being able to restart USB mode on 6.20 TN-C
- backlight turning off completely in USB power save mode instead of dimming on new PSP models
- freezing when changing PC settings from the PSP while in USB mode with libusb
- fixed 12 hour clock display
- various other fixes
Downloads
Find download links for PSPdisp below.
Older Versions
More...
In this section you will find additional links related to this application
We didn't reference any discussion on our forums about this homebrew yet, but you can create one!